By: Deanna Fisher
Circle K International Trustee, Eastern Canada District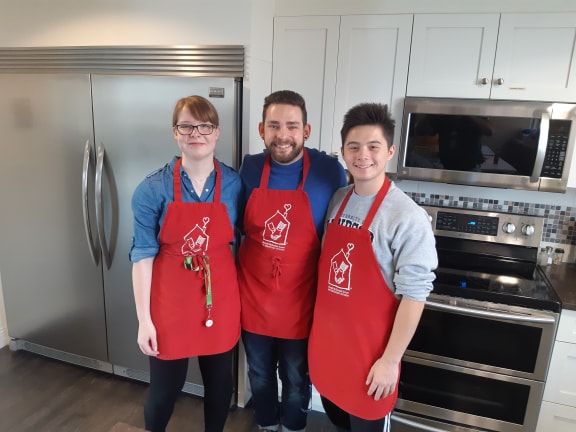 Igloos, moose and a love for on-ice sports. Mix those together with a passion for service leadership and you find Circle K in Canada. Comprising three districts across six time zones and 7,560 km (almost 4,700 miles), the Great White North is home to countless student leaders who have a different CKI experience than their counterparts around the world.  
One of the big things that I've noticed, and a great icebreaker, is showing fellow CKI members over our Zoom calls how we package milk in Canada (it's in a bag, and it causes a very chaotic conversation). Add that to all dressed and ketchup chips, along with our different versions of Smarties, the food landscape varies throughout the countries that make up CKI (though no country can beat a Canadian poutine). 
As a lifelong resident of Canada, and someone who has served at many levels of leadership in CKI, I've noticed some major (and minor) differences between how I "CKI". When I attend Kiwanis meetings, I'm more often than not greeted by a Toast to the Queen (now King), and the formalities that come with being a Commonwealth nation. Our clubs are quite spread out, and in my district, I'd have to take a three-hour plane ride to get to one of my clubs. With Canada being the second largest country in the world, sometimes it's easy to feel disconnected from other clubs in the district. (We were rocking online meetings before they were cool.)  
In terms of service, the passion is the same as any other CKI member, however the organizations we partner with are different. From Médecins sans Frontières to the Canadian Cancer Society, Canadian Wildlife Federation and the Heart and Stroke Foundation, Canadian CKI clubs tend to deal with local or national organizations more than those internationally. Being able to see the impact directly at home fuels more service to continue, along with allowing for more hands-on volunteering than fundraising. Lots of Canadian signature projects deal with food and inviting the community to come together to enjoy a meal for a good cause.  
Most of our CKI clubs are bilingual, and CKI members are guaranteed to know some phrases in French from mandatory classes in middle school. Getting to experience a cultural mosaic in Canada is shown in the diversity and uniqueness of each of our clubs. From differences in additional executive positions, to main projects, and the members that make up each club, we don't fit into a cookie cutter mold (unless it's shaped like a maple leaf).  
Being part of an international organization means that most of us have passports to travel to other countries and across the border for international conventions. Some of our Key Clubs are incredibly close with U.S. counterparts, and this is shown in joint fall rallies that have been going on for close to a decade (I guess we never really forgot our subregion pairings). Circle K International clubs and members are close to their Key Club and Kiwanis counterparts, and we try to attend each other's district conventions as much as possible. (I just attended the Kiwanis Eastern Canada and Caribbean Convention in August.)  
In terms of schools, most of our clubs are at universities, rather than colleges (and our definition of those schools is slightly different than other international areas). Circle K International has to compete with many other service organizations on campus, such as Rotaract. Greek life is not as big in Canada compared to the U.S., and our club fairs aren't nearly as crazy. CKI clubs are typically more moderate in membership numbers but make up for that by accomplishing great feats of service. Lots of CKI clubs contain international students, as Canada has lots of non-Canadian students studying here. Something that I had to learn when talking to other CKI members was what "junior" and "sophomore" meant in terms of studying, as Canada typically just uses the number of years of study someone is in.  
While the basic structure of Circle K International is the same in every club around the world, Canadian CKI clubs have things that make them unique. We're probably the nicest branch of CKI members, and travel far to see our friends, but we love being part of such a wonderful organization and getting to bring a little more maple syrup to the world's largest collegiate service organization.