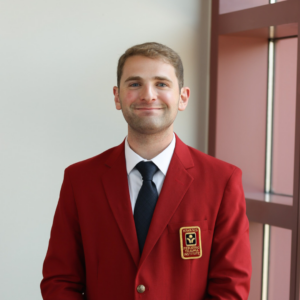 Hello, Circle K International! My name is Zak Kahn, and I am the new CKI president. 
A little about me: I am a fifth-year health science major at Northeastern University in Boston, on a premed track, with a minor in French. I was born in New Jersey, U.S., and grew up in Hooksett, New Hampshire, U.S. I am a past New England District secretary-treasurer, district governor and international trustee. 
Throughout my time in CKI, I have witnessed the immense potential of our organization. We have so many passionate members, all committed to our tenets of service, leadership and fellowship. This year, we are in a prime position to grow our membership, expand district interactions and continue inspiring innovative ideas and collaborations. 
The Circle K International Board will focus on transparent communication this year. By creating an inclusive and welcoming environment, we aim to ensure that every member has the opportunity to contribute.  
Through collaboration and dedication, we can propel CKI to new heights. Together, let's make CKI a place where every member flourishes, service and leadership are celebrated, and our impact extends beyond our campuses. I am always here as a resource, and I encourage you to reach out with any questions or ideas. I am incredibly excited to witness the accomplishments we will achieve as an organization this year.
 
Yours in Service, 
Zak Kahn